Lumatek ZEUS PRO 600W 2.7qmol/J
Code:
96336
Related products
Product detailed description
We introduce you to a modern LED light from the prestigious British brand Lumatek, a pioneer in artificial lighting for indoor plant growing. This full-spectrum LED lamp has dimmable diodes suitable for the whole growing cycle.
Low heat emissions

Low power consumption

High yields and a harvest full of aroma, medicinal substances and essential oils

The best cost-benefit ratio you can get on the market
High-quality Osram and Lumiled diodes
Here are the main reasons for getting this full-spectrum LED light:
This model is most cost effective in terms PPF vs Price providing first-rate diodes and quality. If you want the best - go to Lumatek PRO 2,9 version,
The fixture has 6 LED panels characterised by high photosynthetic photon flux (PPF) of 1570 µmol/s with a 2.6 µmol/J efficacy.
High-quality

Osram and Lumiled

diodes - the very top of current LED technology
The output is adjustable to the growth phase without losing effectiveness - single light for all growth phases.
The construction and placement of the diodes are optimised for more even light distribution.
It can light spaces up to 150 x 150 cm

-

the perfect full-spectrum light source for

medium-sized and large grow tents
Its functional design features a

low profile practical for tents and rooms with a low ceiling. The dimmable diodes can hang about half a meter above the plants without causing problems.
Safety first - the

IP65 cover

protects the light from water and dust damage. LED modules don't contain heavy metals like the mercury used in HID lamps, which can contaminate your growing area when the bulb is damaged.
We also need to point out the

easy installation and simple replacement of the LED components.
Besides the quick return on investment, you get a long-lasting device. The fixture can last up to

60 000 hours. The manufacturer stands by the quality by offering a

five-year warranty.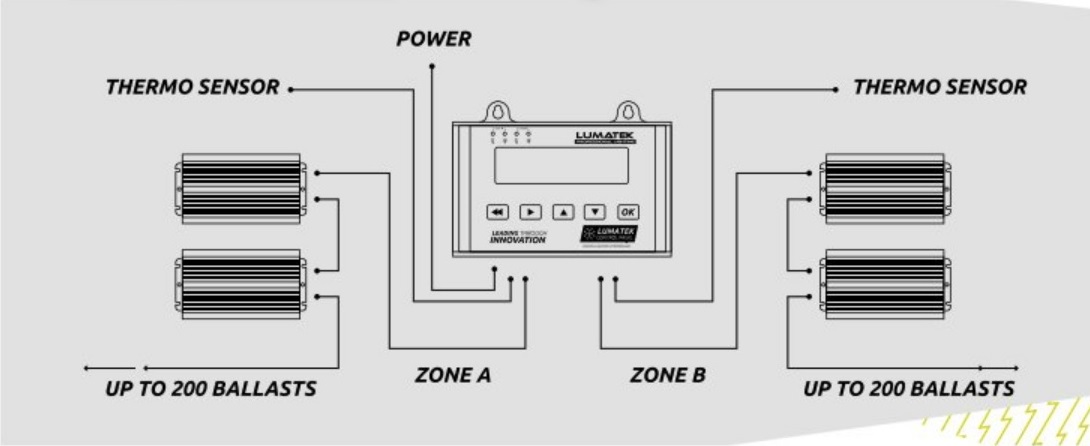 TIP: The light is compatible with the Lumatek Digital Controller Plus 2,0, which features automatic turn on/off, full dimming in 1% increments, and sunset & sunrise simulation.
If you're looking for true top-quality and price isn't a concern, check out the Lumatek ZEUS 600W PRO 2,9.
Product specification:
| | |
| --- | --- |
| Size: | 109.1 x 118.2 x 8.1cm |
| Input power: | 615W |
| HPS Equivallent: | 1000W |
| PPF: | 1620 µmol/s |
| Efficaacy: | 2,7 umol/J |
| Spectrum: | Full-spectrum |
| Cooling: | Passive - heat sink |
| Lifespan: | 60 000h+ |
| Cover: | IP 65 |
| Recommended area: | 150x150cm (light should stay 50cm above plants) |
| Input voltage: | 100-240V AC |
| Frequency: | 50 / 60 Hz |
| Dimmable: | 0-100% |
| LED: | Osram and Lumileds Philips |