Lazerlite LED 720W 2,7 qmol/j
Code:
ILULEDLAZ9000
Related products
Product detailed description
The Lazerlite LED luminare features a perfect blend of both full spectrum white LED diodes and red LED diodes. This results in the perfect spectrum for all phases of growth (vegetative and blooming). The mix of white and red LEDs results in a relatively high ratio of bluish light. Blue light keeps your crop tight and compact in the vegetative stage and adds optimal morphogenesis and light uptake by the plant.
4pcs of rope ratchet is included in every LED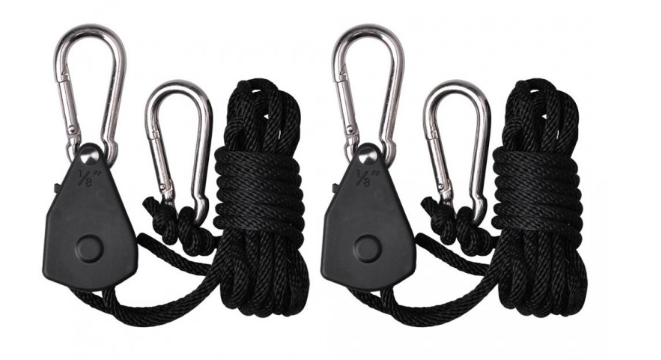 Powered and controlled by any 600W Electronic HID Ballast (not included), this high-performing, high efficiency LED 6 bar fixture is lightweight and easy to install and comes in a foldable design for easy and compact transportation.
The Lazerlite 600W Electronic Ballast (or any other 600W Electronic ballast) can be mounted directly on the fixture or positioned remotely. A dimmable electronic ballast can dim the LED Fixture in the same grade as the ballast indicates. Also the "Boost/Superlumen" setting may be selected to give the maximum light output.
Specifications:
- Efficacy: 2,7 mol/J
- Number of light bars: 6 bars
- LED Quantity: 2214 pcs
- Mounting Height: >15 cm above canopy
- Thermal Mangement: Passive
- Lifetime: 50.000 hrs
- Power Factor: >90%
- Colour Rendering Index: 80ra
- Ambient Temperature: -25 - 40 ºC
Dimensions:
- 1067 x 1105 x 54 mm
Warranty: 3 years