PROBOX PROPAGATOR M 80x60x40cm
Code:
95703
Related products
Product detailed description
Low opaque tent Probox Propagator M, 80x60x40cm for growing very young or small plants. Outer sheath made of durable Nylon 420D fiber, Mylar inner foil with 97% reflectivity.
Medium Propagator M Probox with dimensions 80x60x40cm is suitable for pre-growing seedlings, seedlings or cuttings. It has proved to be excellent for caring for small or young plants at the earliest stages of development. The low Probox Propagator M is equipped with a patented stable construction. The outer shell is made of durable and strong Nylon 420D fiber. The Mylar inner reflective film ensures up to 97% reflectivity.
The entire Propagator box from Garden HighPro is totally opaque when closed. Also, thanks to the durable zippers, the light does not penetrate either outside or inside. The entrance is provided by the front door. The practical advantage is two openings for air conditioning (diameter 135mm) and an opening for cabling (diameter 8cm).
The Probox Propagator M growing box from Garden HighPro is made of harmless material that does not endanger plants in any way. The patented construction guarantees perfect stability and the right shape under vacuum. Dimensions 80x60x40cm.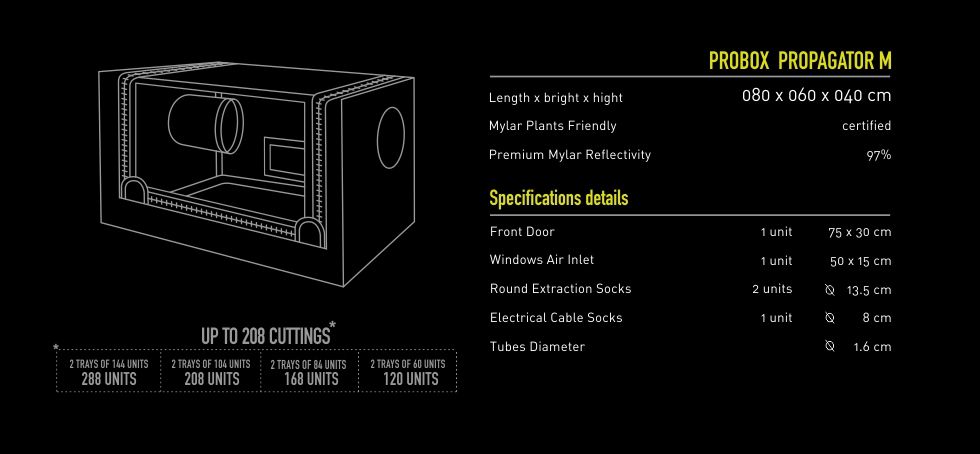 Assembly instructions