AIR POT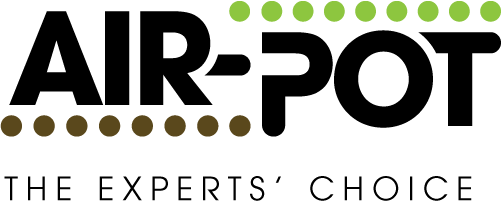 It is a revolutionary technology in the production of growing containers and the subsequent modern method of growing plants.
The principle of the container limits the spiral growth of the roots. The root system grows and develops radially. The surface of the container has outwardly directed protrusions with holes, which allows air to access the roots. The air prevents the roots from growing outside the root ball and thus does not form a tangle of roots at the bottom and sides of the growing container. The continuous process of this principle results in a plant with a central strong root system in the entire volume of the root ball and with a massive trunk. Thanks to these unique properties of the Air-Pot container, we achieve a double root ball and at the same time lower substrate consumption than standard containers. Air Pots shortens the cultivation time, which reduces the number of transplants compared to conventional potting. In addition, the simple layout of the Air-Pot makes transplanting plants easier and safer.
When cultivating with this new method, the gardener must master all the differences from conventional cultivation, such as higher substrate moisture during planting, sufficient watering during cultivation and other handling so that cultivation with this method meets the expected effect.
Air-Pots consist of parts - body ("collar"), connecting plastic screws and a grid bottom. Air-Pots are reusable and recyclable.
Bestsellers