Sunflower Automatic Trimmer L
Code:
96585
Product detailed description
The Automatic Trimmer L® is a unique and fully automated device with the capacity to trim as much as 30kg per hour.
The unrivalled design allows for quick and effortless assembly and maintenance.
The "exchangeable tumbler system", a brand new technology, brings automatic trimming to a whole new level that is unparalleled in the industry.
Trimming made Easy.
The Automatic Trimmer L® device does not require the removal of leaves prior to trimming.
No longer will you waste untold hours meticulously pruning your branches of unwanted leaves.
Just switch on the device, feed it with flowers and the rest is done by the Automatic Trimmer L® device.
The Automatic Trimmer L® has been designed and developed by Sunflower Trimmer Ltd., using the most advanced technologies and processes.
We have cooperated with the Technical University in Brno and other design centers where the device has been improved and tested for perfect usability.
The result is a unique, never before seen, automatic device for cannabis trimming.
"Trimming is easy" is our company vision and our goal.
It is what has led us through the process of developing the Automatic Trimmer L®.
Cannabis flowers are loaded into a black plastic hopper and moved into a stainless steel tumbler where they are trimmed.
All automatically with no additional effort.
The flowers are rotated in the tumbler and slowly moved through to a collection bag.
Blades are just 1mm from the tumbler which allows for a perfect trimming.
The Automatic trimmer L® stands on the Blower Workstation L to suck the leaves into the waste bag.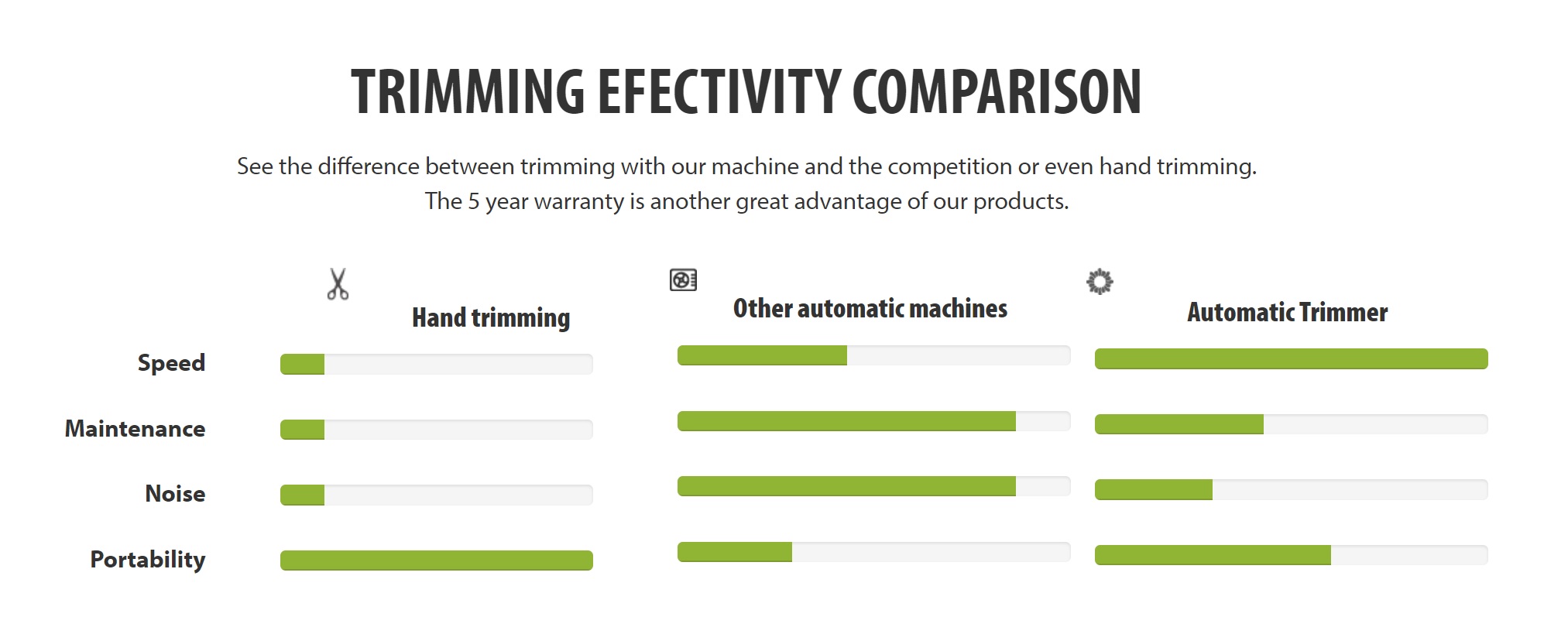 Technical specifications:
Device size (h,w,d): 90x70x50cm
Device weight: 55kg
Wet trimming: 20 to 30 kg/h
Dry trimming: 4 to 5 kg/h
Automatic Trimmer L
Output: 0.25 kW
Motor IP enclosure rating: IP 55
Rotation: 1365 min-1
Tumbler rotation: 100 min-1
Voltage: 230V
Frekvence: 50Hz
Tumbler diameter: 126mm
Rotor length: 542mm
Trimming surface length: 542mm
Tumbler and blade distance: 1mm
Number of Tumbler sheets: 6
Workstation L
Air output: 1200 m3/h
Max. suction: 1500 Pa
Inlet neck diameter: 100 mm
Output power: 0,55 kw
Frekvence: 50Hz
Motor IP enclosure rating: IP 55
Motor rotation: 2800 rpm