Digital ballast Lumatek Ultimate PRO Controlled 600W - 400V
Code:
95976
Product detailed description
The Lumatek Ultimate PRO CONTROLLED 600W digital ballast - 400V - is a new version of the best-selling ballast on the market.
Unlike the classic version, it includes a connection to the Lumatek Controller via a 3.5 mm jack.
Thanks to this, you can connect up to 400 ballasts to one Controller and use the functions it contains.
This will be appreciated especially by commercial growers. You will no longer need any expensive switchboards whose only function is to reliably switch ballasts as a function of time.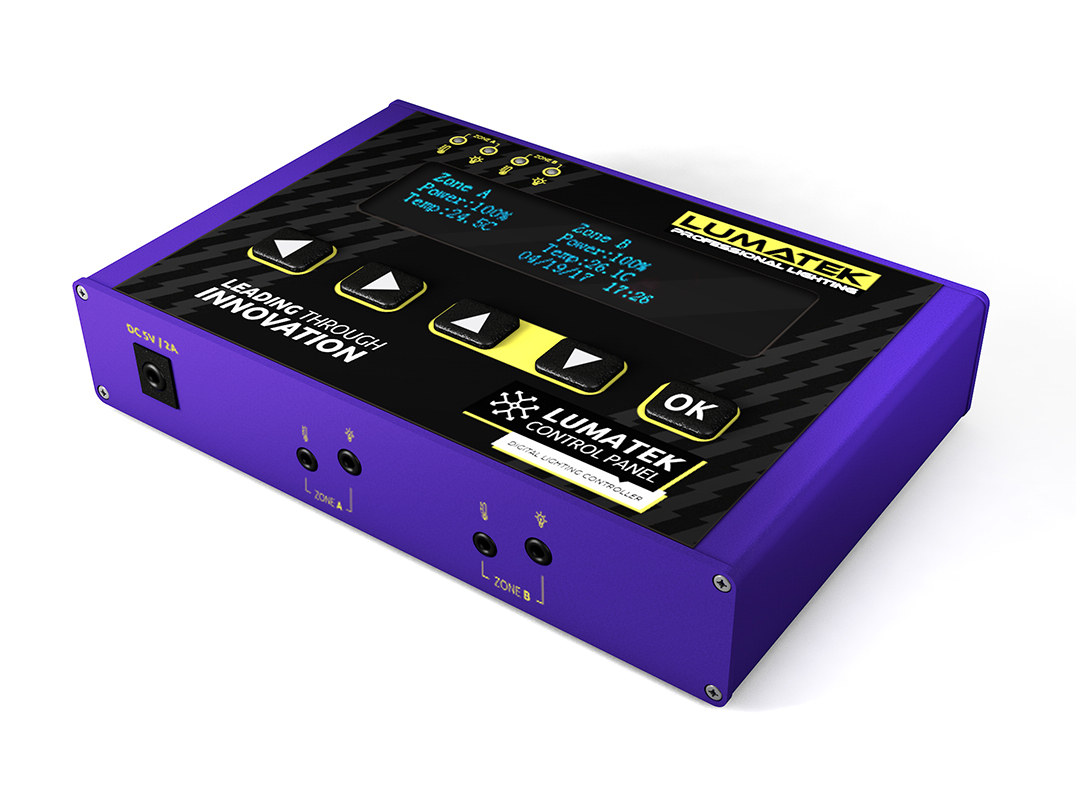 The Lumatek Ultimate Pro 600 has been specifically designed to help the hobby grower access the benefits of using electronics to control and power both 240V MH/HPS and professional 400V HPS horticultural lamps.
The Lumatek Ultimate Pro automatically detects the lamp connected and then powers that light. A Lumatek 600W 400V HPS lamp is supplied with the ballast.
The 400V lamps are superior to the 240V lamps traditionally used in the hobby hydroponics and indoor garden markets due to their increased efficiency and greater PAR spectrum output. Photosynthetic Active Radiation (PAR) refers to the part of the light spectrum that plants actually use to photosynthesize and make energy to grow.

Using microprocessor and software controlled electronics, the Lumatek Ultimate 600 is an ultra-high frequency ballast operating at 120KHz (120,000 cycles per second) for 400V and 90KHz for 240V lamps.
A conventional magnetic ballast operates at 50Hz, making much less light available to the plant. You can see the difference in quality of light yourself using the video camera on your phone, try filming a light powered by a magnetic ballast (strobe flicker) and then the Lumatek (solid light). This increased efficiency means less power is lost from the power supply to the lamp.
The high frequency output results in low power loss at the cathodes in addition to better overall power management and energy efficiency.

The Lumatek Ultimate 600 is a remote electronic ballast that will plug into standard 240V mains supply and power 600W 400V HPS and 400W/600W 240V MH/HPS grow lamps. This ballast has an IEC connector on the lamp cable and can connect to any regular reflector.
This intelligent digital ballast can easily integrate into your existing grow room; simply replace your ballast with the Lumatek Ultimate 600 and it will automatically detect which type of lamp you are using and provide precise voltage required for optimum PAR spectrum output. If you are powering a 600W 400V grow lamp, you will instantly achieve more useable grow light!
More light = more yield!
Specifications:
Size L x W x H (mm): 310 x 114 x 81
Weight (Kg): 3.0
Case: Graduated Fin Aluminium
Dimming Range (W): 400W - 400SL - 600W - 600SL (SL = ~10% boost)
Mains Supply Voltage: 240V 50Hz
Input Current Max (A): 2.96 (When in SL - 711W)
Input Power (W): 630
Output Power (W): 600
Operating Frequency (KHz): 120
Power Factor: 0.99
THD(%): <7
600W 400V Lumatek lamp is not included!
Lumatek Ultimate Professional 600W 400V Electronic Ballast for use with 400V and 240V HPS/MH Horticultural Grow Lamps
Full circuit protection; open/short, over temperature, over/low voltage, end of lamp life/rectification
EMI suppression certified