Digital ballast Lumatek Ultimate PRO Controlled 600W 400V + Lumatek HPS 600W 400V
Code:
95978
Product detailed description
Unlike the classic version, it includes a connection to the Lumatek Controller via a 3.5 mm jack.
Thanks to this, you can connect up to 400 ballasts to one Controller and use the functions it contains.
This will be appreciated especially by commercial growers. You will no longer need any expensive switchboards whose only function is to reliably switch ballasts as a function of time.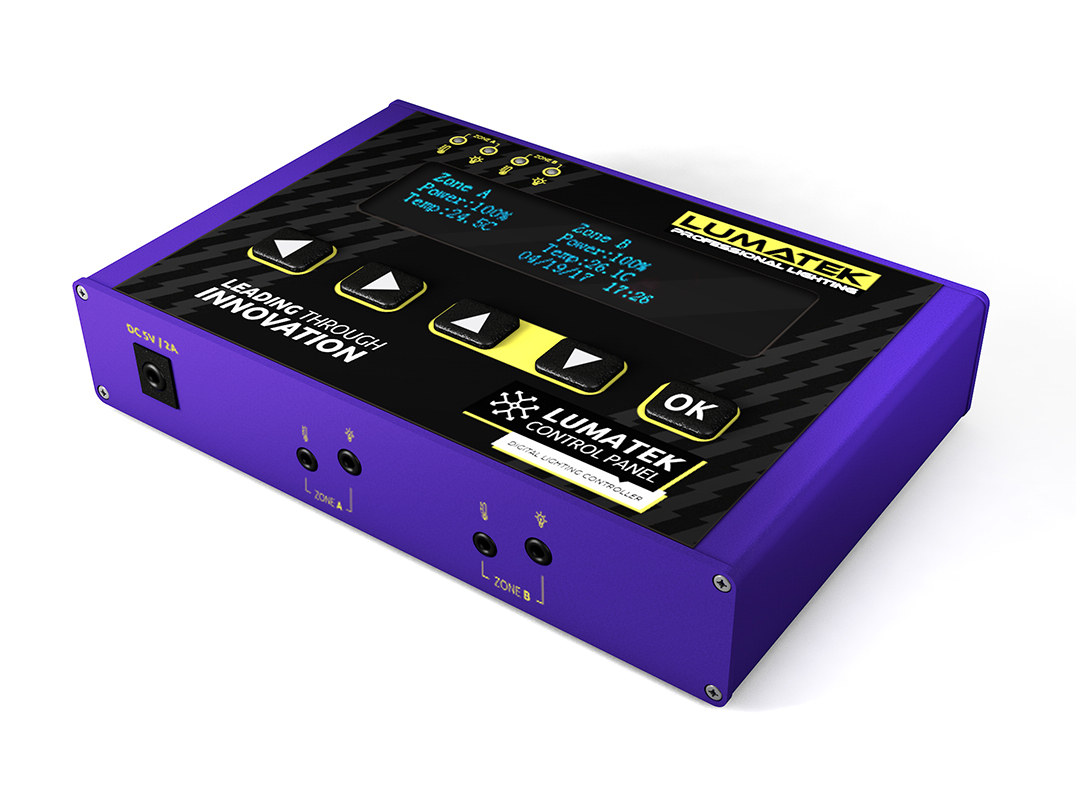 The Lumatek Ultimate Pro electronic ballast has the main advantage of being able to supply both 240V and 400V lamps.
The ballast detects the lamp and supplies it with a current of 240V or 400V.
In the case of power supply with a voltage of 400V, the lamp reaches an operating frequency of 120 KHz (at 240V the frequency is 90 KHz), which means 25% higher luminosity.
At the same time, it allows you to regulate the power of your light source.
The "super lumen" function allows you to increase the power of the light source by up to 10%.
The built-in microprocessor allows the connection of both conventional high-pressure sodium lamps and metal halide lamps.
The advantage of Lumatek ballasts is the compensation of fluctuating voltage, which leads to a longer service life of the lamps used.
Dimensions L x W x H (mm): 310 x 114 x 81
Weight (Kg): 3
Elaboration: Graduated Fin Aluminum (aluminum)
Control range (W): 400W - 400SL - 600W - 600SL (SL = ~ 10% boost)
Input Voltage: 240V 50Hz
Input current (A): 2.7
Input power (W): 630
Output power (W): 600
Operating frequency (KHz): 125
Power factor: 0.99
Total harmonic distortion (%): <7
Efficiency (%): 96
Other advantages of the Lumatek ballast include:
up to 27% higher efficiency compared to electromagnetic ballasts
up to 10-15% higher efficiency compared to other electronic ballasts
Compared to Lumatek's electromagnetic ballasts, there is no reduction in power and increased heating energy (reactive energy) over time.
Guarantee of minimum noise during use thanks to the use of resin fillings
the microprocessor ensures constant power and minimizes voltage surges (fluctuating voltage).
The Lumatek ballast uses a combination of state-of-the-art alloys to ensure efficient cooling
thanks to the "soft start" function, it allows the lamp to run up to full brightness within 5 minutes, thus saving the lamp and extending its life
the ballast is programmed to switch off automatically in the event of a short circuit or a missing or damaged lamp
each piece is individually tested for 12 hours to ensure maximum reliability
guarantee of minimum interference of radio and satellite waves (max. range 1.5 m)