Digital ballast Lumatek Ultimate PRO CONTROLLED 1000W - 400V
Code:
95689
Product detailed description
The Lumatek Ultimate PRO CONTROLLED 1000W digital ballast - 400V - is a new version of the best-selling ballast on the market.
Unlike the classic version, it includes a connection to the Lumatek Controller via a 3.5 mm jack.
Thanks to this, you can connect up to 400 ballasts to one Controller and use the functions it contains.
This will be appreciated especially by commercial growers. You will no longer need any expensive switchboards whose only function is to reliably switch ballasts as a function of time.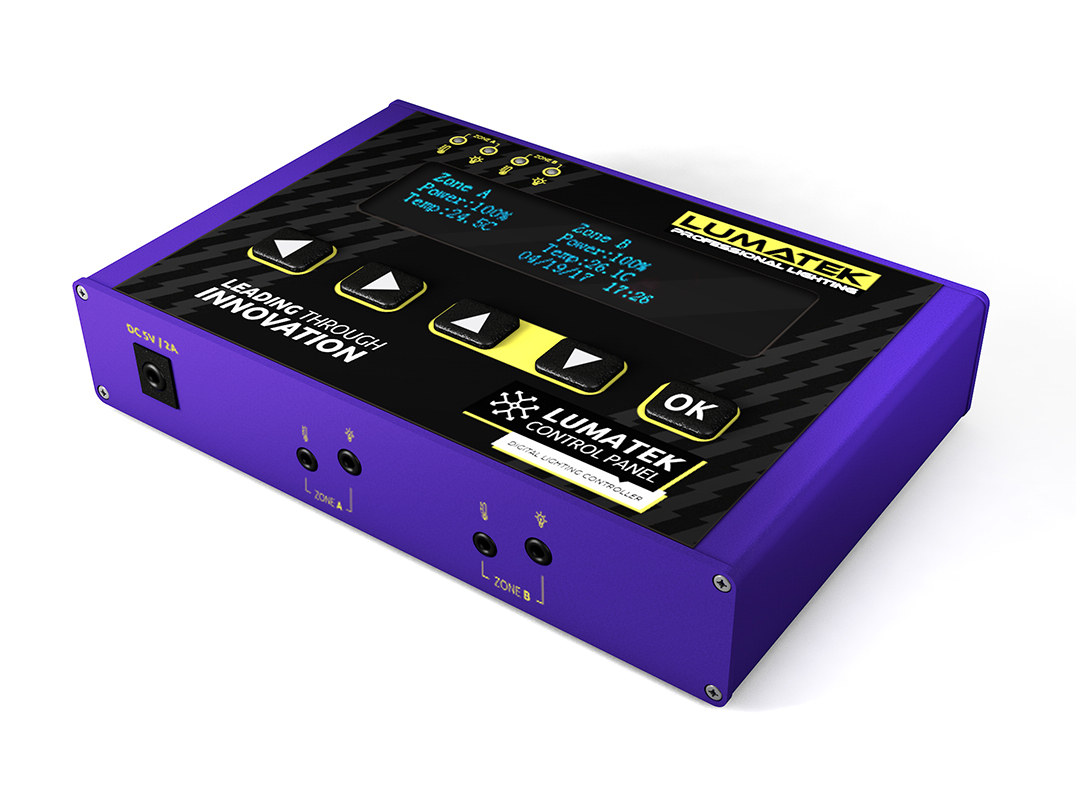 The Lumatek Pro 1000W 400V Digital Ballast has been developed to drive 400 volts Double Ended horticulture EL lamps, and this by means of a standard 230 Volt power supply.

Lumatek introduces the next generation of 240V fully dimmable electronic ballasts that can control professional horticulture 400V lamps and at an affordable price.
Developed to meet the main requirements of the breeder:
• Additional PAR Light Output – up to 10% more
• More light = more revenue
• Improved PAR Light Output maintenance
• Highest System Efficiency
• High reliability
• low energy costs
• Affordable price – only 20% more than standard 240V equipment
• Connect to 240V AC and 400V starting EL Professional Double Ended horticultural grow lights

400V assimilation lighting is now standard in professional horticulture because of the extra PAR (grow light) which produce this with greater efficiency and lower energy costs. Improved PAR Light ensures a constant and uniform plant growth.
Lumatek uses the latest electronic components to reduce the cost of high-end professional equipment for the end user.

Lumatek Pro 400V EVG developed specifically also the hobby – to set grower able to drive 400 volt eem professional horticultural lamp 240 volt outlet using a standard and at an affordable price. This are all the advantages of professional horticulture 400 volt lamps for everyone within range and at a price that a hobby – breeder can afford.

Lumatek Pro ballasts with all 400 volt lamps from leading manufacturers, including Philips tested. These tests have demonstrated PAR 8-10% more light output compared to standard horticultural lamps.

400V horticultural lighting even decrease after one year of use even better PAR light output with levels only by 5%.

The Lumatek Pro 1000W 400V Digital Ballast is designed to provide professional 1000W 400V DE (Double – Ended) to drive EL (electronic) lamps and can be connected to Lumatek Pro1000W THE reflectors.

Lumatek have a proven reputation for reliability and performance in Electronic Ballast. These new 400V series of professional Lumatek provides affordable professional lighting market.
Specifications:
Size L x W x H(mm): 318 x 166 x 96
Weight (Kg): 4.9
Case: Graduated Fin Aluminium
Dimming (W): 600W - 750W - 1000W – Super Lumens (115%)
Mains Supply Voltage: 240V 50Hz
Input Input Current Max (A): 5.1
Input Power (W): 1200
Output Power (W): 1150
Operating Frequency (KHz): 125
Power Factor: 0.99
THD(%): <10
Efficiency(%): 96
Mains Voltage Range(V): 175 – 275
Lamp: 600W, 750W, 1000W HPS
1000W 400V DE lamp is not included!
Full circuit protection; open/short, over temperature, over/low voltage, end of lamp life/rectification
EMI suppression certified