Digital KIT Lumatek Controlled CMH 630W - 3100K
Code:
95690-3100
Product detailed description
The set includes: Lumatek CMH 630W ballast + Lumatek CMH 630W lamp 3100K
Unlike the classic version, it includes a connection to the Lumatek Controller via a 3.5 mm jack.
Thanks to this, you can connect up to 400 ballasts to one Controller and use the functions it contains.
This will be appreciated especially by commercial growers. You will no longer need any expensive switchboards whose only function is to reliably switch ballasts as a function of time.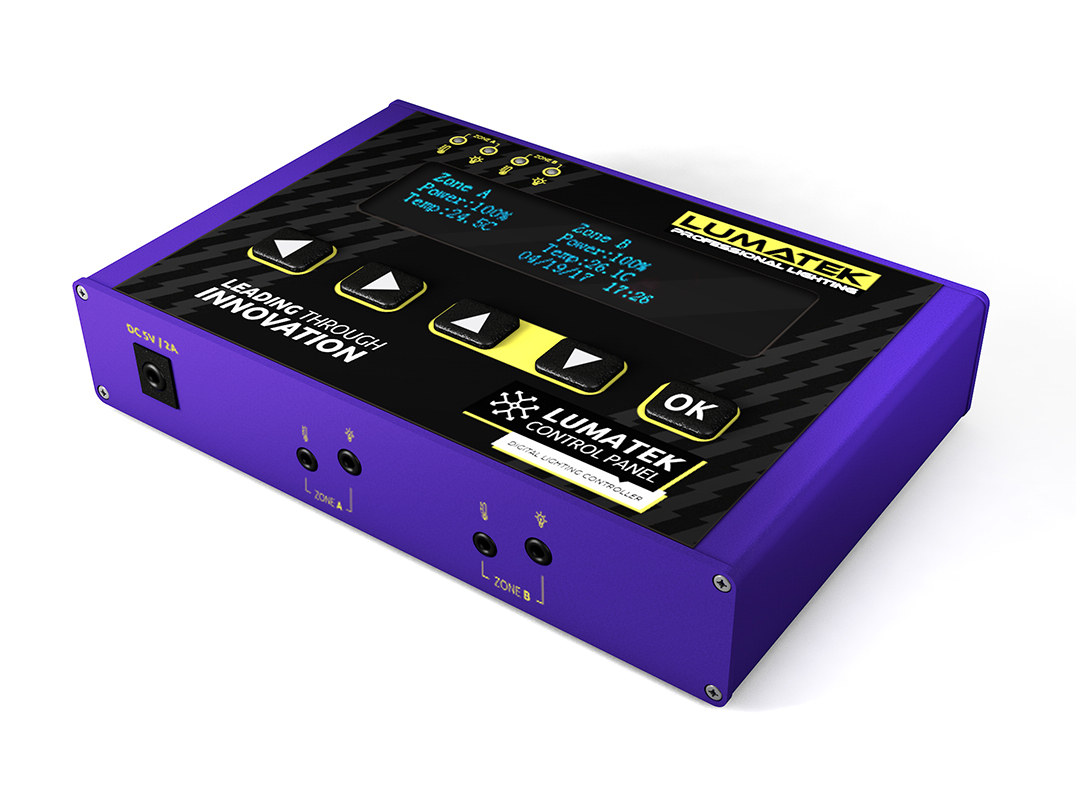 The 630W DE CMH Kit consists of the Lumatek 630W DE CMH lamp (Agro 3100K or Daylight 4200K) and 630W DE CMH Controllable & Dimmable e-ballast.
The Lumatek Ceramic Metal Halide Double-Ended (DE) high frequency pulse-start lamp has been engineered for use with Lumatek 630W DE CMH electronic ballast and is produced using high-grade ceramic arc tube technology and specific horticultural gas blend that creates optimal spectral output for healthy plant growth.
CMH technology creates high energy PAR/PPF levels with low heat at full spectrum which is closer to sunlight and produces healthier plant growth and larger yield. With a CRI (Colour Rendering Index) of >90%, CMH is perfect for growing high quality produce and essential oil extraction. Lumatek 630W Double-Ended (DE) Ceramic Metal Halide (also known as CMH/CDM/LEC) lamps are available in 4200K Daylight and 3100K Agro CCT formats.
Double-ended CMH lamps are more stable than traditional, single-ended Metal Halide (MH) lamps and this allows them to have an increase in light intensity and PAR/PPF output of up to 50% compared with similarly powered standard MH lamps.
The PCA ceramic arc tube permits the lamp to operate at higher internal temperatures increasing colour rendering, output and efficiency. PCA resists interaction with the chemicals inside the tube which stabilizes the chemical mix over the life of the lamp, thereby improving colour consistency and PAR/PPF level maintenance. Pulse-start technology enables faster start up & restrike time, longer lamp life and increased lumen maintenance.
The reliable 630W DE Controllable & Dimmable CMH digital ballast has been successfully used in cultivation facilities around the word and uses high frequency technology to efficiently fire and operate 630W Double-Ended (DE) Ceramic Metal Halide (also known as CMH/CDM/LEC) lamps.
The new addition of Control capability allows you to easily monitor and regulate your grow room environment (Lighting timming, sunrise/sunset, digital 1% dimming, etc). By simply connecting the Lumatek Digital Panel (sold separately) into the TRS "Link" port on your controllable ballast.
5 metres Control Link Cable included.
For safety this ballast uses full circuit protection including open/short circuit, over temperature, over/low voltage, end of lamp life/rectification and EMI suppression.
Less Power Consumed, Less Heat, Full-Spectrum, High Efficiency PAR/Watt
Specifications:
630W CMH Dimmable & Controllable Ballast
Voltage: 240V 50/60Hz
Input Current Max (A): 3.2A
Input power: 668W
Output power: 630W
Power factor: >0.97
Efficiency: 95%
Voltage range: 185 to 275V
THD: <10%
Dimming: 80% - 90% - 100%
CF: <1.7
Operating frequency: high frequency
Environment temperature for full load operation: 40℃
Enclosure temperature rise (Δt): ) 30℃
Ballast IP rated: IP20
Humidity: 90%
Dimensions: 320 x 114 x 81mm
Weight: 3.8 Kg
Full circuit protection; open/short, over temperature, over/low voltage, end of lamp life/rectification
No audible noise, no flicker
EMI suppression certified
Lumatek 630W DE CMH grow lamp
Power Voltage: 240V 50Hz
Lamp Power (W): 630
Lamp Current (A): 3.2
Rated Life (H): 14000
CCT(K): 3100K (Agro) or 4200K (Daylight)
Luminous Flux (lm): 77600 (3K) & 64500 (4K)
Luminous Efficiency (lm/W): 123 (3K) & 102 (4K)
PAR (micromols/sec): 1268 (3K) & 1219 (4K)
Bulb: T32.5
Base: K12x30s (Double Ended)
Double Jacketed explosion proof rated for open reflector
3100K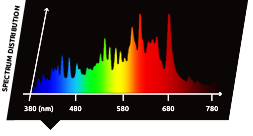 4200K